Using SEO to promote your construction company online presence should be an essential part of your marketing strategy. By investing in SEO for construction company, you can generate more leads and close more sales, it's important to work with the right SEO agency if you want to see results. How do you choose the right one?
Step 1: Compare SEO agencies
This step involves reviewing 3-5 agencies for your construction company by looking at their websites, talking to their SEO specialists over phone and email and then deciding which agency is best suited for your construction business.
During your research phase you will want to look at factors such as past work experience with the construction and building industry, staff training, pricing structure and approach towards clients' projects. At least one or two of these things will likely stick out for each agency in comparison to others and that should be what you base your decision on.
Step 2: Evaluate their expertise
The most important factor in choosing an SEO agency is their expertise in your industry. A construction company needs to have a construction-focused agency, not a beauty salon or ad agency. You need someone who knows what they're doing and can offer solid advice on building links and outreach campaigns that fit your goals. Otherwise, you could end up wasting money on worthless campaigns that won't drive new customers to your site or help you grow.
Step 3: Look at their previous projects' results
When you are looking for a company to help you with your SEO campaign, it is important that they have worked with other companies in the same or a similar industry. On top of that, have they achieved great results via SEO. If so, can they show you any SEO results for previous clients? By reading previous reports and findings on their website, you can get an idea of what is going to be covered in the SEO work for your construction company. Click here to know more work our team has done for the previous clients.
Step 4: See references
References from past clients are always a good indicator of how well a company will work with you. And because most online agencies offer detailed references from previous clients, it's easy to check up on them to make sure they aren't paying for all these testimonials.
Search for reviews and ask any questions you may have before making your final decision. If you don't see any references (or if they look a little shady), proceed with caution.
Step 5: Consider their monthly price, service, and offers
There are many SEO companies that charge an arm and a leg for their service.
When choosing an SEO company, check out their prices and detailed services first before signing up. Make sure that they offer value for money.
Step 6: Check for specializations
Choosing an SEO agency to work with your construction company comes with a lot of factors and considerations. Of these, there are some which are general, and others which are specific for your industry.
If you're looking for an SEO agency for your construction company, here are some tips: Check their website for any specializations – Does your chosen SEO company have experience in industries related to yours? For example, does it show off their experience working with construction companies? If so, great!
Step 7: Decide if it's a good fit culturally
SEO agencies work on your company's SEO campaign on daily basis, so it's imperative to make sure they can fit with you and your team in terms of the work ethics and work style. That is beyond the SEO knowledge, and the work ethics is as important as the SEO skills.
Again, as a professional SEO team, we're experienced in construction industry.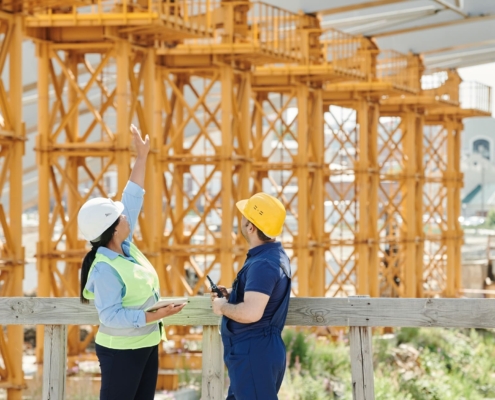 Using SEO to promote your construction company online presence is an essential part. Learn more about SEO for Construction Company with Digital Channel.
https://digitalchannel.com.au/wp-content/uploads/2022/05/pexels-mikael-blomkvist-8961065-1.jpg
1249
2048
admin
http://digitalchannel.com.au/wp-content/uploads/2020/12/201122.1.1.0_logo_Digital-Channel-01-300x114.png
admin
2022-05-16 01:10:07
2022-06-27 13:30:25
7 Steps to Choosing the Right SEO Agency for Your Construction Company